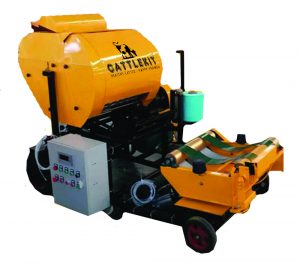 Cattlekit Baler and Wrapper is perfect solution for small silage bale making. Mostly available balers in Pakistan market are able to make only 300kg+ bales while not every farmer and enterprise is able to invest this much into big baler.

This machine can produce silage bales between 50-80 kg and bale density which is very important factor for baler is much better than other small balers coming from China with 525-725 kg/m3.

1) Silage Round Baling & Film Wrapping Machine is a specialized machine that can bale and wrap film on straw and forage grass only in one processing progress;

2) Operating by 1-2 workers, high efficiency, low labor cost and low transportation cost;

3) Easy operating, high baling density, compact machine structure, nice appearance, strong and durable, less vibration, low power consumption, simple maintenance, low labor cost.

This baler can produce 50-70 bales per hour. it is fully automatic baler and wrapper.

Cattlekit provide one of the best quality of balers plus with delivery, training of users, warranty and parts availability.